Jenn's Top 10 Reasons to OWN another Fit Chicks! T-shirt
It's the BEST color …EVER!
It looks good on everyone
It is convenient, versatile and COMFORTABLE
It's sharable with friends, family, co-workers, teachers and church members
It's a great way to motivate others without having to speak
It keeps your doctor from asking…"Are you working out…" 😊
IT'S LAYER-ABLE (pop a long sleeve shirt or turtleneck under it)
It brings a feeling of empowerment and confidence that any woman can be a FIT CHICK
It helps you not worry about "what to wear to the gym"… and
It's on sale NOW!
Buy 1 for $18.69, Get 3 t-shirts for FREE! 
Give it to your hair dresser, neighbor, pastor or pastor's wife, co-worker, church group members, your daughter or daughter in-law or anyone else you would like to empower this season. Spread the Holiday Spirit with your world!
😊
Buy 1 for $18.69, Get 3 t-shirts for FREE!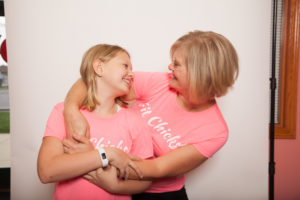 The Give Back Campaign
Year End Sale for Hatch: Did you know that in 2018, we fed six families, 2 dozens eggs, per week for the entire year? Yeah YOU did. It's true! How did we do it?  You invested in yourself when you purchased swag from Fuel Station. Then, a portion of the proceeds from the Fit Chicks! store went to Hatch, an organization providing fresh, nutritious, whole eggs to food pantries across Indiana.
We fed six families, 2 dozens eggs, per week for the entire year?

"I met with Randy Reichman, the executive director. Hatch's impact is aligned with the Fit Chicks! Movement mission," says Roz "It's feels good to help provide whole, nutritious food to people in our community"
Snag your swag

Email Jenn: Contact@fitchicksprogram.com
INVENTORY
T-shirt sizes: XS-4 | S-2 | L-13 | XL-20 | 2XL-14